A treadmill is one of the best exercise equipment for your complete body workout. It helps burn excess calories, manage body weight, build stamina, and promote cardiovascular fitness. It is convenient to use. If you are planning to buy a treadmill, then read this guide.
How To Buy A Treadmill?
We are sharing a few important tips that will help maximize your investment and achieve your fitness objectives.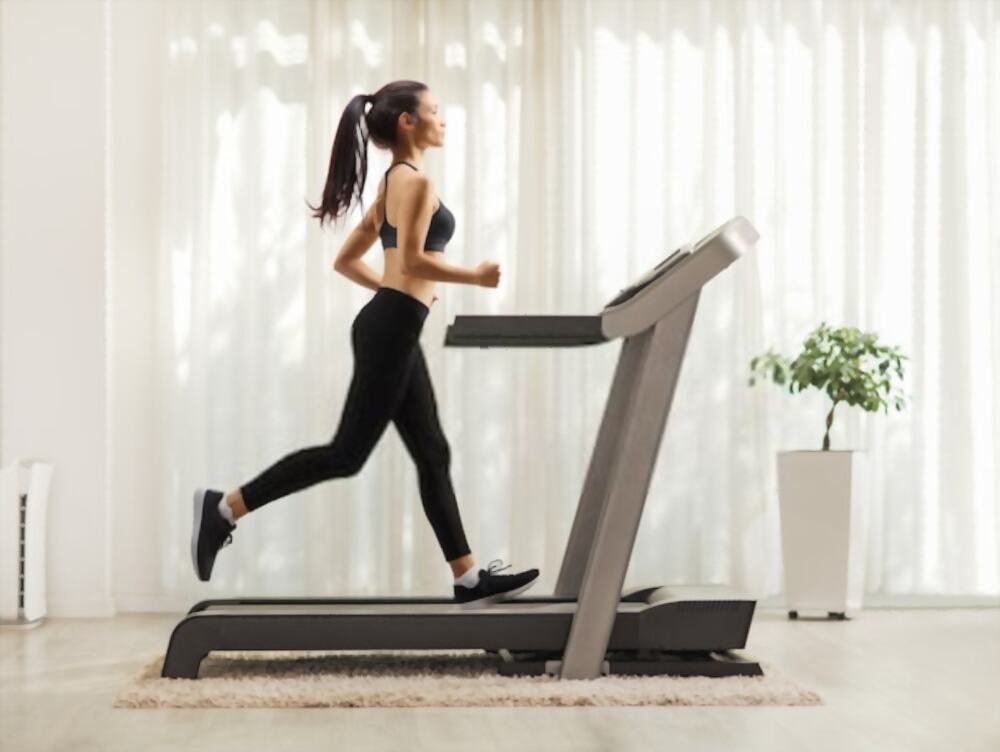 Benefits of a home treadmill
✔️ Having a home treadmill gives you the following benefits:
✔️ It saves money and time that you spend on the gym.
✔️ Irrespective of the weather conditions, you can do the workout whenever you want.
✔️ Regular running on the treadmill improves your stamina and helps ward off several types of illnesses.
✔️ Working out on the treadmill enhances your mood and boosts confidence.
✔️ It also improves your athletic performance.
✔️ It helps manage a healthy weight.
Steps To Find The Best Treadmill For Home Use
To find the right treadmill, you need to perform thorough research. Wise decisions will help protect your hard-earned investment. Here are some key pointers that will assist you to compare treadmills and find the best match.
✔️ Treadmill Motor
Determine the number of members in your home who would be using the treadmill at present or in the future—the horsepower produced by the motor impacts the treadmill's quality and the workouts.
Go for a motor that provides a minimum of 1.5 continuous-duty horsepower. People who want to use it frequently should choose the motor of 2.5 to 3.0 CHP. If you are bulky, then you need to invest in a more robust motor.
✔️ Minimum Specifications
Here are a few specs that must be on the treadmill.
☑️ Size of belt: If you want to run on the treadmill, then its belt should be a minimum of 18 inches in width and 48 inches in length. Tall (around 6 feet) should need a treadmill of a 54-inch belt for running and 52-inches for walking.
☑️ Cushioning: The running bed should be sturdy and exhibit good shock-absorbing qualities. Also, ensure that the belt doesn't move with each foot-strike.
☑️ Incline and Decline: Choose a treadmill that comes with an incline feature. It should go up to ten percent or more. The decline feature is also helpful in giving an improved replication of outdoor running settings.
☑️ Speed: To run on the machine, you should look for the one that goes up to ten mph or more.
☑️ Stability: This is a very important spec that ensures the safety of the user. Make sure that the treadmill doesn't shake at the time of walking or running on it. It should have a stable frame.
☑️Safety
The next very important consideration when buying a treadmill is the inbuilt safety measures. It should have a key-based Auto-stop" feature. At the time of running, the safety key is attached to the body.
If you slip, then the key gets disengaged. This causes instant stopping of the machine. This feature is very useful when you have pets, children, old or infirm people at home.
The treadmill you choose should not offer you a jerky or shaky ride. This can invite injuries and accidents. The handrails have to be robust enough to provide enhanced support.
The deck should remain stable and firm at the time of running. It shouldn't feel "soft" as such cushioning can cause knee injuries in the future. Also, it should not be so hard that you feel like running/walking on the road. The material should also be strong and long-lasting.
☑️ Space And Folding
Again, the machine's size is an important consideration that will save you from regrets and the hassle of returning and rebuying. Measure the available space in your house where you want to keep the treadmill.
Look for only those machines that fit well within that image. If you have space constraints, you can opt for a folding treadmill. However, it will still occupy space when folded.
☑️ Programming Features
A treadmill comes with several inbuilt functionalities that can make your workouts more effective:
• Running and walking programs.
• An inbuilt heart rate monitor.
• Ability to link the treadmill to websites and apps for new workouts.
• Incline and Decline functionality to replicate uphill and downhill movements, respectively.
• Foldable design
All these features would add to the price of the treadmill. So, choose only those features that you will require now and in the future.
☑️ Noise
As you will be using the treadmill at home, you need to ensure that its operation does not disturb the other house members. Go for the one that does not make much noise. In that case, you can listen to music easily while working out on it.
Conclusion
Buying a treadmill is a meaningful investment for health. Begin by determining the general requirements and preferences, and then deciding on the best combination of features, warranties, and components that suits your fitness budget. By following this guide, you can surely find the ideal treadmill that meets your workout requirements.
Jakob Ain is a leading functional-medicine expert and a Doctor of Chiropractic. He received his doctorate from Southern California University of Health Sciences and is currently based in Pittsburgh, PA. Jakob Ain specializes in clinically investigating underlying factors of chronic disease and customizing a functional medicine approach for thyroid issues, autoimmune conditions, hormonal imbalances, digestive disorders, and brain problems.